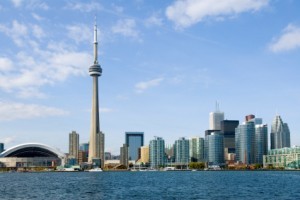 Teach English in Canada, where the ESL market is the largest among English-speaking countries! Canadian cities are some of the most modern and peaceful in the world. Furthermore, most of Canada's ESL institutes are recognized by Languages Canada, which sets the bar for management and instruction!
SSLC is Hiring Full-Time English Teacher for Academic Purposes
Full-time English Teacher position in Toronto. $22-23/hour plus health benefits after 3-month probation. Paid prep time. A Bacherlor's degree and  TESL Canada accreditation are required required. EAP experience is an asset. Experience teaching writing (essay format, citations, plagiarism) is an asset.
Contact Elizabeth Epstein at [email protected]
The International English Program (IEP)
 The International English Program (IEP) at New College, University of Toronto is seeking qualified TOEFL preparation instructors, beginning in August to offer language classes and activity programs for international youth (12-18 years of age) and adult students (19+).
Main duties include:   Planning/teaching daily 3-hour TOEFL preparation classes; Designing and implementing class assignments and practice tests; Maintaining student records and submitting a written evaluation for each student.
This is a short-term contract from July 30th to August 24th,  with no option to extend the contract into the fall.  Please be aware that these session dates include the statutory holiday on 6 August.  Time: 10:00–13:00, Monday to Friday, Pay: $38.00 / hour
Minimum requirements:  Preference will be given to applicants with at least 1 year of TESL experience, and to those who have previous experience as a TOEFL or IELTS preparation teacher and/or examiner. TESOL certified (TESL Canada accredited), OR B.Ed. (or equivalent teaching degree)
To apply Please email a resume to Katherine Anderson, Assistant Director (Academic), International Programs, at [email protected] The University of Toronto is an equal opportunity employer. Only applicants who meet the above criteria will be considered. Only selected applicants will be contacted for interviews. For more information, please visit http://iep.utoronto.ca.
Quest Language Studies
Quest now accepting applications for teaching positions in downtown Toronto. We are seeking creative, enthusiastic and experienced ESL teachers for short-term, long-term and substitute positions to begin shortly.
All applicants must have an excellent knowledge/command of grammar, have an understanding of communicative language techniques, hold a degree (BA) and be TESL Canada or TESL Ontario (or the equivalent) certified.
Experience teaching exam preparation courses — IELTS, TOEFL, Cambridge (CAE & FCE), TOEIC is considered an asset.
Rate: $22.00 to $25.00
If you meet these requirements, please forward your resumé to [email protected].
Thank you for your application. Please keep in mind that only select candidates will be chosen for an interview.
Canadian International Student Services
Canadian International Student Services (CISS) is currently seeking energetic and hard-working ESL instructors. Applicants should be organized, creative, and team oriented. Must be open to embracing our programmes' diverse cultural environment. Currently offering positions in: Toronto, Lakefield (near Peterborough) and Rosseau.
The summer camps in Rosseau and Lakefield focus on English instruction and camp activities. For residential programmes, teachers live on site. 10 to 25 hours of instruction/ week, generally 5 days of classes /week.
Please visit www.cisscanada.com to familiarize yourself with the programmes.
Qualifications: Bachelor of Education, TESL Canada Level One
Accommodation and meals are included with some positions.
Find out more and apply today!
Global Village Toronto
Come and teach with the outstanding team at Global Village Toronto, one of the most established independent language schools in Canada, for over 39 years.
Global Village is currently seeking qualified, dynamic and creative teachers for our Junior and Adult programs. Candidates must have a passion for delivering exceptional education and customer service to students.
Benefits include: a salary of $26.95 to $29.56 /hour, paid preparation time, a mentor teacher program, a solid curriculum + much more!
Qualifications: Applicants for the ADULT program must have a B. A. and a TESL certificate from a TESL Canada or Languages Canada recognized institution.
Teachers for the JUNIOR program must have the above qualifications or a BEd (junior/intermediate or Senior). ESL Part 1 and/or 2 is an asset but not required.
One year or more of teaching experience is preferred.
The adult program is year round. The junior program runs from June 19-August 24, 2018, 9:00-12:00 Monday-Friday.
To apply for the ADULT program, please send your resume AND cover letter to the attention of our Assistant Director of Studies, Sheila Terreau
To apply for our JUNIOR program, please address your resume AND cover letter to Vice President, Donna Daly.
Please make sure the subject line of your email includes the phrase, "GVT Apply to Teach". If you are applying for the Junior program, please add "Junior" to the subject line.
Global Village Toronto is committed to the Accessibility for Ontarians with Disabilities Act and welcomes requests for accommodations in all aspects of the selection and hiring process.
St. George International College
Teach downtown Toronto with St. George International College (SGIC)  an ESL school with students from all over the world. Work and teach in  a close-knit community where you feel like you are part of a work family. We are seeking teachers who are dedicated to their work and who really love what they do.
We are seeking a Part Time ESL Teacher who is TESL certified, has at least 6 months teaching experience, is energetic and creative and who is passionate about teaching.
Daily Teaching Responsibilities include:
Teaching according to a pre-planned curriculum
Teaching with supplemental exercises and activities as needed
Planning lessons and being prepared to teach
Communicating with staff regarding student concerns
Marking tests, presentations and assignments in a timely manner as well as keeping accurate student records
Enforcing school rules and regulations (English! English! English!)
Being punctual
Assigning homework (online and paper)
Providing students with feedback
Qualifications:
Bachelor Degree (any major)
Minimum 6 months ESL teaching experience in Canada
Native English speaker
Energy and a passion for your job
Salary: $20.00 to $22.00 /hour
Kaplan Toronto
Kaplan KIE in Toronto is currently seeking ESL instructors on a part time and full time basis. We are seeking teachers who can maintain responsibility for all aspects of classroom management within their classes, as well as adhere to the Kaplan curriculum, supporting international students to achieve their academic goals through English language instruction and preparation for standardized tests. We are seeking charismatic, experienced and talented teachers who can provide students with an outstanding educational experience.
Key Job Responsibilities Include: 
Teaching classes using the Kaplan curriculum, across multiple levels, as assigned
Preparing lessons according to established syllabus
Maintaining an atmosphere conducive to learning, including maintaining classroom facilities
Maintaining accurate record keeping for daily attendance and student performance
Attending staff meetings and workshops; participating in ongoing training programs
Becoming familiar with and adhere to company policies and procedures
Tutor students as assigned and if available
Liaise with academic supervisor to improve delivery of Kaplan academic
Minimum Requirements include:  
BA
TESOL Certification
Outstanding skills in creating a dynamic, interactive classroom experience
Must be authorized to work in Canada
Preferred Qualifications 
3+ years of experience teaching ESL in a group setting
Experience with industry, international students and/ or overseas teaching experience
One or more foreign language ability
Centre for Education & Training
The Centre for Education and Training in Mississauga is seeking an casual Instructor for the Distance Education LINC Home Study and Online English Program funded by the Province of Saskatchewan. We provide a self-paced distance language training program for newcomers to Canada who are unable to attend classes in person. Eligible immigrants enrol in the program to obtain and improve the English language skills required to function in Canadian society. Instructors deliver weekly instructional sessions by phone or VOIP, as well as monitor and facilitate students' independent study. Teachers would be working from home and reporting to a project manager/coordinator of the program.
Benefits include:$25.85 to $25.90 /hour per hour plus vacation pay (pending funding approval)
DUTIES & RESPONSIBILITIES:
Manage 8 to 20 students based on program need and Supervisor's discretion, on a continuous intake basis for those with Canadian Language Benchmarks (CLB) skills 2-8
Provide weekly, one-on-one instruction by phone /VOIP for assigned students according to mutually agreed time and schedule
Record details of weekly student appointments in the Learning Management System (LMS)
Conduct an initial needs assessment and develop a learning plan for each new student within 2 weeks of first contact
Regularly assign homework and provide meaningful and constructive performance feedback to students on a weekly basis
Develop/adapt and deliver CLB-based learning activities that augment the core curriculum to support student learning goals as needed
Conduct regular assessments of students including ongoing needs assessments, formative and summative assessments
Complete quarterly reports of student progress in the LMS
Create and maintain student portfolios
Attend meetings and professional development activities as required
Adhere to program policies and guidelines
Collaborate and knowledge share with peers for personal and program development
Other duties as assigned related to program development and delivery
QUALIFICATIONS:
BA
Current TESL Canada or TESL Ontario certification
Min 2 years' experience teaching LINC/ESL
Demonstrated understanding and application of the Canadian Language Benchmarks, LINC Curriculum Guidelines, and National Language Placement and Progression Guidelines
Readiness to work independently and remotely (private space with computer, high speed internet access and phone)
Excellent oral and written communication skills
Demonstrated proficiency using common computer applications and web-based tools/applications
Experience with distance learning and/or educational technology
Availability: evenings and/or weekends is an asset
American Sign Language (ASL) teaching experience an asset
A satisfactory police check at applicant's expense
Send your cover letter and resume today!
Polycultural Immigrant and Community Services
Polycultural Immigrant and Community Services is seeking an instructor to provide English language instruction to newcomers to Canada; to develop a program based on the LINC curriculum and CLB Benchmarks; to assist the administrative and settlement staff in implementing the settlement component to the program.
Responsibilities and Duties Include: 
Assessing students to determinate their needs and goals and to develop the curriculum.
Developing lesson plans and long range plans consisting of appropriate themes, goals, and objectives to be covered in each session
Incorporating speaking, listening, reading, and writing into daily activities
Specifying learning outcomes expected by end of each session
Organizing suitable teaching materials
Assessing student progress according to Canadian Language Benchmarks on an ongoing basis
Familiarity with Portfolio Based language Assessment(PBLA)
Planning and organizing local field trips
Creating a comfortable for students including being aware of students rights within a classroom environment
Supporting students to develop an appreciation for Canadian society, culture, and traditions
Collecting and providing daily attendance and other statistical information
Participating in required professional devleopment activities such as workshops, conferences and staff meetings
Assisting with training and supervision of placement students/volunteers
Qualifications and Skills
Adaptable, uses a variety of communication techniques to foster open communication, planning & organizing/ time management for effective completion of set out goals, Demonstrates strong commitment to meeting the needs of co-workers, managers, clients, or community members,  continuous eagerness to learning of technical knowledge and new skills to perform job effectively.
Salary:  $30.00 /hour
Qualifications
TESL Ontario certificate and TESL Ontario membership in good standing; OCT is a definite asset
University degree in adult education
Strong background and ability to plan and organize the instruction for adult learners
Solid knowledge of Canadian Language Benchmarks and an experience in assessing students' progress according to CLB
Previous experience with English language instruction
Multicultural awareness, gender sensitivity, and racial and ethnic appreciation.
Demonstrated moral and ethical judgment
Demonstrated sensitivity to the needs of newcomers
Strong computer skills and excellent writing skills
Please forward your application on or before Friday April 27, 2018 to the Hiring Committee with cover letter explaining your interest in this position as an attachment in MS Word in one document with the file name: *Last name first name* to:
Polycultural Immigrant & Community Services
17 Four Seasons Place, Suite 102
Toronto, Ontario M9B 6E6
Polycultural reserves the right to post internally and externally.
Polycultural asks that job applicants with disabilities who require accommodation in the recruitment and selection process, to please advise Human Resources, if contacted for an interview/testing, to arrange suitable accommodation. (In compliance with AODA, 2005, Integrated Accessibility Standards). If you need assistance in sending your resume due to a disability, please contact Human Resources directly.
https://tefl-jobs.ontesol.com/wp-content/uploads/2015/03/ontesol-logo1-300x137.jpg
0
0
admin
https://tefl-jobs.ontesol.com/wp-content/uploads/2015/03/ontesol-logo1-300x137.jpg
admin
2018-08-06 11:51:33
2018-08-08 18:11:09
English Teaching Jobs in Canada